Recurring fails at Weather Underground
It has been several months (year?) since Weather Underground had accustomed us to poor quality service. After the somewhat unpredictable operation and results of its forecasting services, the attempt to abandon their weather webcam service (and then backtracking), here are the data collection services from the personal weather stations that gone in a bad way. For some months now the owners of personal weather stations using the Weather Underground APIs have had trouble sharing their meteorological data correctly via the services of the company bought a little over 5 years ago by The Weather Company, a subsidiary of IBM. Yet the year 2017 was for Weather Underground the opportunity to move to the cloud, obviously not a guarantee of quality and resilience in light of recent events…
In recent weeks the service was almost completely down. Weather Station users who use Weather Underground as a data source or target know something about it.
This morning, Weather Underground sent a small email explaining that everything was back in order and that these concerns were really, but really not their fault: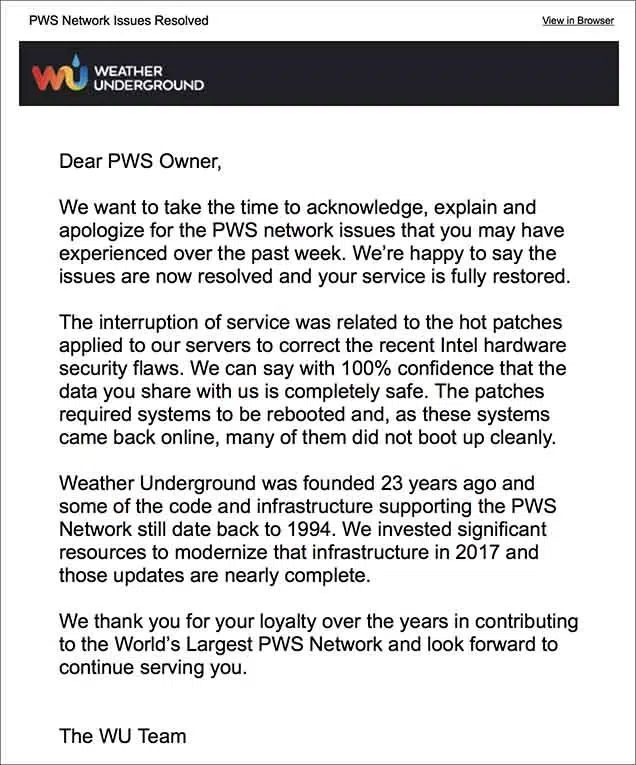 I admit that I have a hard time believing that everything is back in order and that the company is doing everything possible to promote its use by enthusiast meteorologists. I even have the impression that we are going to witness a slow deterioration—probably followed by an abandonment—of the services offered to the owners of weather stations. I hope I'm wrong, but I remain realistic…
And you what do you think about it?
Header illustration: CC BY-SA 3.0 Nick Youngson / Alpha Stock Images
Similar Articles
[jetpack-related-posts]
Stay Up to Date
Receive the latest news and updates from Weather Station.